TWAIN SHANIA

The platinum collection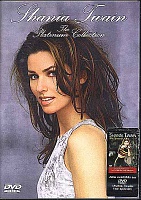 Katalogové číslo: x01203
EAN: 0008817025896

Rok vydání: 2001
Hudební styl: Klipy
Celkový čas: 80:32

Seznam skladeb
TRACKLIST :
1."What Made You Say That"
2."Dance with the One That Brought You"
3."You Lay a Whole Lot of Love on Me"
4."Whose Bed Have Your Boots Been Under?"
5."Any Man of Mine"
6."The Woman in Me (Needs the Man in You)"
7."(If You're Not in It for Love) I'm Outta Here!"
8."You Win My Love" (Mutt Lange Mix)
9."No One Needs to Know" (All Performance Version)
10."Home Ain't Where His Heart Is (Anymore)"
11."God Bless the Child"
12."Love Gets Me Every Time"
13."Don't Be Stupid (You Know I Love You)"
14."You're Still the One" (International Version)
15."Honey, I'm Home"
16."From This Moment On" (Blooper Version)
17."That Don't Impress Me Much"
18."Man! I Feel Like a Woman!"
19."You've Got a Way" (Notting Hill Remix) (All Performance Version)
20."Come on Over"
21."Rock This Country!"