BACKSTREET BOYS

Backstreet Boys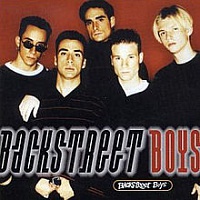 Katalogové číslo: z04752
EAN: 0828765355629

Rok vydání: 1996
Hudební styl: Pop
Celkový čas: 54:28

Seznam skladeb
1."We've Got It Goin' On"
2."Anywhere for You"
3."Get Down (You're the One for Me)"
4."I'll Never Break Your Heart"
5."Quit Playing Games (With My Heart)"
6."Boys Will Be Boys"
7."Just to Be Close to You"
8."I Wanna Be With You"
9."Every Time I Close My Eyes"
10."Darlin"
11."Let's Have a Party"
12."Roll With It"
13."Nobody but You"