JACKSON ALAN /USA/

34 number ones-compilation-2cd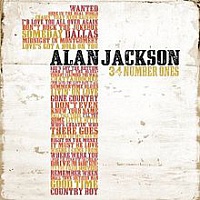 Katalogové číslo: z07004
EAN: 0886977868122

Rok vydání: 2010
Hudební styl: Country
Celkový čas: 132:48

Seznam skladeb
CD 1 :
1."Ring of Fire" (with Lee Ann Womack)
2."Here in the Real World"
3."Wanted"
4."Chasin' That Neon Rainbow"
5."I'd Love You All Over Again"
6."Don't Rock the Jukebox"
7."Someday"
8."Dallas"
9."Midnight in Montgomery"
10."Love's Got a Hold on You"
11."She's Got the Rhythm (And I Got the Blues)"
12."Tonight I Climbed the Wall"
13."Chattahoochee"
14."(Who Says) You Can't Have It All"
15."Summertime Blues"
16."Livin' on Love"
17."Gone Country"
18."I Don't Even Know Your Name"
19."Tall, Tall Trees"
CD 2 :
1."As She's Walking Away" (with Zac Brown Band)
2."Look at Me"
3."I'll Try"
4."Home"
5."Little Bitty"
6."Who's Cheatin' Who"
7."There Goes"
8."Between the Devil and Me"
9."Right on the Money"
10."It Must Be Love"
11."Where I Come From"
12."Where Were You (When the World Stopped Turning)"
13."Drive (For Daddy Gene)"
14."It's Five O'Clock Somewhere"
15."Remember When"
16."Small Town Southern Man"
17."Good Time"
18."Country Boy"