ZAPPA FRANK

Best band you never heard in your life-reedice 2012-2cd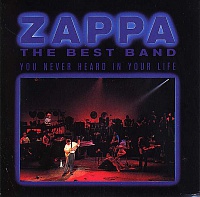 Katalogové číslo: z02450
EAN: 0824302388129

Rok vydání: 1991
Hudební styl: Rock | Avantgarde
Celkový čas: 131:34

Seznam skladeb
CD 1 :
"Heavy Duty Judy"
"Ring of Fire"
"Cosmik Debris"
"Find Her Finer"
"Who Needs the Peace Corps?"
"I Left My Heart in San Francisco"
"Zomby Woof"
"Boléro"
"Zoot Allures"
"Mr. Green Genes"
"Florentine Pogen"
"Andy"
"Inca Roads"
"Sofa No. 1"
CD 2 :
"Purple Haze"
"Sunshine of Your Love"
"Let's Move to Cleveland"
"When Irish Eyes Are Smiling"
""Godfather Part II" Theme"
"A Few Moments with Brother A. West"
"The Torture Never Stops, Pt. 1"
"Theme from "Bonanza""
"Lonesome Cowboy Burt"
"The Torture Never Stops, Pt. 2"
"More Trouble Every Day"
"Penguin in Bondage"
"The Eric Dolphy Memorial Barbecue"
"Stairway to Heaven"